Exploring opportunities in China via Dothan, Ala.
West Memphis Economic Development director Ward Wimbish is attending the U.S./China Manufacturing Symposium this weekend in Dothan, Ala., along with Mark Hamer from Arkansas Economic Development Council.
Billed as a way to build relationships with Chinese companies and bring jobs to the states, the event is attracting more than 150 Chinese business executives representing advanced manufacturing, textile, communication technology and other industries. The West Memphis Economic Development office is a sponsor and the city is the only Arkansas municipality being represented. Read more about the conference in this story from The Dothan Eagle.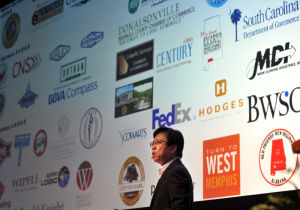 The overview information provided in this packet is to inform the prospect of detailed information regarding the site in question. Information is subject to change without notification. Information is provided by sources deemed reliable, however, it is the responsibility of the prospect to determine the suitability of the site for his particular use. The City of West Memphis does not warrant the accuracy or comprehensiveness of any information provided herein. Please contact the Office of Economic Development at 870.732.7500 for the most current information.